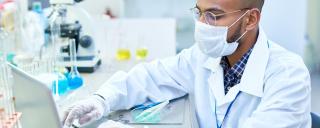 Cores
The faculty and senior scientific staff of the Duke Human Vaccine Institute have assembled state-of-the-art technologies into Shared Resources or Core Facilities to support research initiatives in the areas of Vaccine Immunology, Immune Reconstitution, Host Pathogen Interaction, and Emerging Infectious Disease and Biodefense. These comprehensive OPEN ACCESS Shared Resources are available to the Duke community and their collaborators.
Regional Biocontainment Laboratory
The Duke Regional Biocontainment Laboratory (RBL) was built with funding from NIH to support basic research to develop drugs, diagnostics, and vaccines for emerging and reemerging infections and biodefense. The RBL has a comprehensive safety and operations program to provide state-of-the-art biocontainment facilities for BSL2 and BSL3 research. The RBL was fully-commissioned in late 2007 (NIAID UC6-AI058607).
The Duke RBL supports basic research programs and has three collaborative Core units that focus on Immunology, Virology, and Microbiology. These units are available to Duke faculty and their collaborators as fee-for-service service centers. Through any of these units, users can receive safety/security training, animal model support and use of the containment environment. These units can be utilized separately or all together to provide comprehensive study support (regulatory compliance, study design, study execution, and data analysis).