The Duke Human Vaccine Institute is a highly collaborative research institute and a diverse community committed to the principles of excellence, fairness, and respect for all people.
What does Diversity, Equity, and Inclusion mean at DHVI?
Diversity is any dimension that can be used to differentiate groups and people from one another. It means respect for and appreciation of differences including: race, ethnicity,  gender, gender identity, sexual orientation, age, physical ability or attributes, national origin, social class, religious/ethical values, political beliefs, work experiences, life styles and cultures.
Inclusion is involvement and empowerment, where the inherent worth and dignity of all people are recognized. An inclusive environment promotes a sense of belonging, values and practices respect for the talents, beliefs, backgrounds, and ways of living of its members, ensuring the opportunity for each person to achieve his or her full potential.
Furthermore, we believe that a diversity of perspectives will lead to the most innovative solutions for addressing the world's public health problems.

In honor of Martin Luther King Jr. Day, over a dozen of the Duke Human Vaccine Institute's faculty and staff participated in the annual "MLK Day of Service," along with hundreds of other Duke University students, faculty and staff.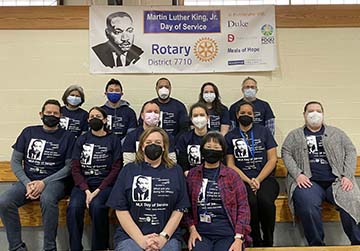 In partnership with Triangle-area rotary clubs, they helped pack more than 30,000 meals that will benefit North Carolina food banks. Our DHVI faculty and staff were thrilled to work side-by-side with Duke University President Vincent Price! Among our faculty and staff were (in alphabetical order) Aria Arus-Altuz, Megan Averill, Madison Berry, Sarah Broz, Derek Cain, Amanda Foreman, Greg Ho, Elizabeth Van Itallie, Helene Kirshner, David Mittenson, Amanda Newman, Kevin Saunders, Rachel Spreng, and Thynn Thane.