The EQAPOL ELISpot EQA program assesses the proficiency of NIAID/DAIDS-supported and other interested research laboratories at performing an interferon-γ (IFN-γ) ELISpot assay. Proficiency is assessed with the goal of helping all participating laboratories to perform the assay. Participating laboratories are required to complete two External Proficiency (EP) rounds per year.
As part of the program, EQAPOL provides the reagents for sites to run their own in-house, IFN-γ ELISpot assay using peripheral blood mononuclear cells (PBMCs) and standardized peptide pools. The PBMCs selected for each EP round have varying reactivities to the provided peptides. In addition to these standardized reagents, the materials to run an EQAPOL IFN-γ ELISpot assay - IFN-γ-coated plates, secondary antibodies, and a detection reagent - are provided in each send-out.
Sites are required to use their in-house assay using the PBMCs and peptides provided by EQAPOL. They are also required to run the EQAPOL-provided IFN-γ ELISpot assay using the provided PBMCs and peptides. Statistical assessment, troubleshooting, final report and discussion of results occur between participating laboratories and EQAPOL/NIAID. For each EP, sites are provided with a site-specific report. Participating laboratories are blinded with a unique EQAPOL site ID, and each laboratory is unblinded with respect to only their data sets.
The EQAPOL ELISpot Proficiency Testing Program was recently accredited to the International Organization for Standardization/ International Electrotechnical Commission (ISO/IEC) 17043:2010 standards by the American Association for Laboratory Accreditation (A2LA).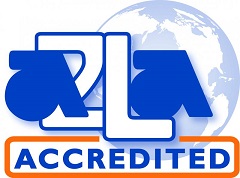 A2LA Cert 3614.01