The Duke Vaccine and Trials Unit (DVTU) mission is to conduct clinical investigations related to the control and prevention of infectious disease with overarching goals of furthering our understanding of vaccine immune responses and correlates of protection from infection and enhancing vaccine safety.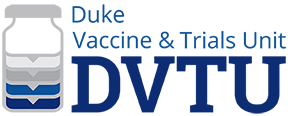 The DVTU includes a consortium of Duke investigators across multiple disciplines including: pediatric and adult infectious diseases; obstetrics and gynecology; geriatrics; neurology; surgery; and family medicine and community health.
With nearly three decades of clinical research experience, the DVTU serves as the clinical trial arm of the Duke Human Vaccine Institute (DHVI). The unit has been consistently funded by the National Institutes of Health (NIH), the Centers for Disease Control and Prevention (CDC), industry partners, and others.  
Currently the unit serves as one of the Clinical Cores for the National Institute of Allergy and Infectious Diseases (NIAID) Collaborative Influenza Vaccine Innovations Centers (CIVICs). As a CIVICs Clinical Core, unit work focuses on evaluating promising next generation influenza vaccine candidates in Phase I and Phase I/II clinical trials and conducting human influenza challenge studies.